ADL Motorsports and Adam Lemke Partner With Off Axis Paint for 2018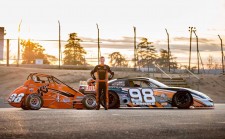 Hollister, CA, March 6, 2018 (Newswire.com) –  ADL Motorsports is ready to kick off the 2018 Season in both the USAC HPD Midget Western Series and the RPM Mortgage Pro Late Model Series starting with the season opener on March 10th at Madera Speedway. Adam will be running for the Rookie of the year title in his number 98 Naake-Klauer Motorsports Toyota, with a new primary sponsor Off Axis Paint.
"ADL Motorsports is excited to announce a new marketing partner for the 2018 Season," said team owner Rodney Lemke. Off Axis Paint who is based out of Mooresville, North Carolina, is known for their creative artists who design custom airbrush helmets for some of the top names and teams in racing.  "I am excited about the partnership with ADL Motorsports and Adam for the 2018 season," Off Axis Paint Owner, Greg Stumpff, said. "We believe that Adam has the talent to make it to the top levels in the Motorsports industry and are looking forward to growing with him as a driver."
Driver, Adam Lemke said, "Off Axis Paint is a primarily known throughout NASCAR and the auto racing community for their unbelievable prestige artwork and helmet design. We are honored to have Off Axis Paint join the ADL Motorsports team and are excited to work with them for the 2018 race season and build a relationship that will continue for years to come."
Adam has also teamed up with Lorin Ranier at Ranier Racing Development. Ranier who has been in the sport of NASCAR his entire life, has developed a reputation as one of the best talent spotters and driver development experts in the business. Over the years, Lorin has worked with drivers like Davey Allison, Tony Stewart, Jimmie Johnson, Matt Kenseth, and Kyle Larson. "I am looking forward to working with Adam, he definitely has the skill, desire and work ethic that it takes to make it in our sport. Later this year we will bring Adam out east and compete in some selected Late Model races with Hawk McCall Motorsports," said Ranier.
For more information visit:    http://adamlemkeracing.com/
Stay Connected with Adam at:
Facebook: https://www.facebook.com/ADL_Motorsports-1426447644291107/
Twitter: https://twitter.com/ADL_Motorsports
Instagram: https://www.instagram.com/adl_motorsports/
Career Highlights:
2017
Silver State Road Course Series Outlaw Champion @ Las Vegas Speedway
5 Wins in the Western USAC HPD Midget Series finished 2nd in the Overall Championship.
3 starts in the 51 FIFTY Jr. Late Model Series with 2 top five and 1 top ten.
1 start in the Pro Late Model Series where he set fast time in qualifying and brought home a 4th place finish.
2016
California Mini Cup Champion
12 Mini cup races: of those, 12 races Won, 10 Trophy dashes, 9 Main Events, and set fast times (6) at Madera Speedway and Stockton 99
K&N Pro Series Mini Cup Feature Winner at Roseville Speedway
2015
Winter Nationals 2nd Sr Animal
Grands-Baylands 4th World Formula
Good Times Galante 1st Sr. Animal Memorial Race
California Monza Series 3rd Sr Animal
4th Light World Formula
4th Light 160
Good Times Club Series 2nd
2014
California Monza Series 4th Light 160
2nd Sr Animal
Good Times Club Series 2nd Light 160
3rd Sr Honda
4th Sr Animal
*** Numerous race wins and fast times at each track during each series.
2013
Rookie of the Year
California Monza Series 2nd Sr. Honda
3rd Light 160
Good Times Club Series 2nd Light 160
3rd Sr. Honda
Baylands Club Series 1st Light 160
3rd Sr. Honda
*** Numerous race wins and fast times at each track during each series.
Media/Sponsorship Contact:
Rodney Lemke
ADL MOTORSPORTS
(813) 809-2566
Rod Wortham
Race Face Brand Development
(727) 999-2628
rod@racefaceBD.com