NASCAR Drive for Diversity Racer Ryan Vargas to Make Langley Speedway Debut Saturday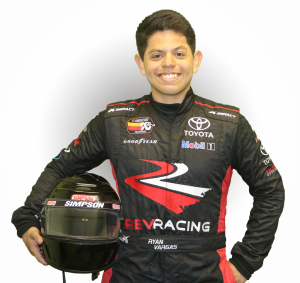 CONCORD, N.C., March 29, 2018 (Newswire.com) – NASCAR Drive for Diversity racer Ryan Vargas, 17, will make his East Coast NASCAR Whelen All-American Series late model stock car debut in the Rev Racing No. 2 Five Star Bodies Toyota this Saturday night at Langley Speedway in Hampton, Virginia.
Vargas, a California native, now living in the Charlotte area, will compete in this weekend's season-opener at Langley with the late model to get some experience on the challenging speedway for the NASCAR K&N Pro Series East race there on April 28.
This will be the first time for Vargas at Langley and his first time racing a late model for Rev Racing. The popular young driver is looking forward to getting on the track.
"This weekend is going to be great," Vargas said. "We've been working on the late model for a few weeks now getting it ready, and I've tried to get as much information about how to be fast at Langley as possible. My crew chief, Matt Bucher, and car chief Glenn Parker have put together a strong car for this weekend. I'm excited to see what late model racing is like here on the East Coast compared to what I've been used to out West!"
Some of NASCAR's most storied legends have competed at Langley Speedway over the years, including seven-time Monster Energy NASCAR Cup Series champions Richard Petty and Jimmie Johnson, Chase Elliott, and former Langley Speedway track champion Denny Hamlin.
Vargas said he is humbled to be able to race at tracks like Langley, which have such deep-rooted historical significance to the sport he loves so much.
"It's an honor to be able to race at tracks where the some of the best in NASCAR history either started their careers or raced at after they got to NASCAR. I love learning about the 'good ole' days,' and all the drivers who helped build the sport into what it is today. There have been so many legendary people who have helped shape NASCAR over the years, and to be able to be right in the heart of where it all took off is a feeling that's hard to express in words."
Vargas is a two-time winner of NASCAR's Wendell Scott Trailblazer Award. He is competing in over 30 races inside the Drive for Diversity Program for REV Racing. He'll compete full-time in the NASCAR K&N Pro Series East and run over a dozen races in the NASCAR Whelen All-American Series at tracks around the Southeast with the late model as well.
The late models will run a pair of 75-lap feature events on Saturday night, with qualifying set for 4:30 p.m. and race time scheduled for 7 p.m. ET. Langley Speedway is a .397-mile oval that is beginning its 67th year of racing action. Fans who cannot make it to the track on Saturday can watch all the racing action at no charge on FansChoice.TV.
Keep up to date on Ryan Vargas's racing career…
Website: http://ryanvargasracing.com
Facebook: https://www.facebook.com/RyanVargasRacing
Twitter: https://twitter.com/The_Rhino23
Media Contact: Rod Wortham
Email: Rod@racefacebd.com
Phone: (727) 999-2628