Ryan Vargas Finishes Third in NASCAR Late Model Langley Speedway Debut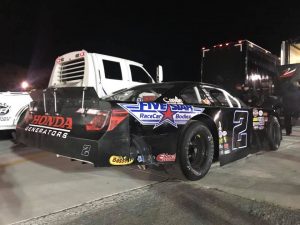 Hampton, VA, April 4, 2018 (Newswire.com) –   17-year-old NASCAR Drive For Diversity Racer and California native Ryan Vargas made his East Coast NASCAR Whelen All-American Series Debut at Larry King Law's Langley Speedway in Hampton, Virginia on Saturday.  He was fast in both 75-lap main events, earning a best finish of third in race two with his Rev Racing Five Star Bodies Toyota after an 11th place finish in race one.
Vargas noted the cold temperatures (in the 40's during the day) and lack of grip in the track surface caused a number of racers to have difficulties with setup, especially in practice and qualifying.
"I spun the car down the back straightaway on my warmup lap in qualifying, but I recovered to qualify 10th out of the 26 cars that were there.  Several drivers were sliding around.  It was a different kind of experience for me.  We don't spend much time racing in 40-degree weather in California!"
After starting tenth and working hard behind the wheel to find any useable grip on the outside to move forward and pass cars, the determined youngster settled for 11th at the finish.  "It was basically a one-groove track," the driver explained after the race. "I kept using the choose cone to get to the outside hoping others would follow and get enough rubber down to make some passes, but it didn't work out. We were running times as fast as the leaders, but we were just stuck in traffic."
In race two, Vargas had to do some nifty driving to avoid a crash on lap two, and then contact with another car caused a second crash behind him that slowed the field again before ten laps had gone up on the scoreboard.  Once the field got rolling, he was able to take advantage of some longer green flag runs and methodically pass his way forward to finish third.
The trademark Vargas smile was in full view after that podium finish.  "I couldn't be happier with a third place in that race," he said. "We had a really fast Five Star Bodies Toyota again, and this time we were able to have some longer runs and pass some cars and finish on the podium. These guys deserved that finish.  I cannot thank everyone on the Rev Racing team enough for their support and all the work they did to get us here for this race. Thank you to Five Star Bodies for their support as well.   I'm excited to come back next weekend and improve on tonight's performance."
Some of NASCAR's most storied legends have competed at Langley Speedway over the years, including seven-time Monster Energy NASCAR Cup Series champions Richard Petty and Jimmie Johnson, Chase Elliott, and former Langley Speedway track champion Denny Hamlin, whose Denny Hamlin Showdown NASCAR Late Model event is coming up on Thursday, April 19 at Langley.
Vargas is a two-time winner of NASCAR's Wendell Scott Trailblazer Award.  He is competing in over 30 races inside the Drive for Diversity Program for Rev Racing.  He'll compete full-time in the NASCAR K&N Pro Series East and run over a dozen races in the NASCAR Whelen All-American Series at tracks around the Southeast with the late model as well.
The next race for Vargas at Langley is this Saturday night, April 7th. Qualifying will take place at 4:30 p.m. and race time scheduled for 7 p.m. ET.  Langley Speedway is a .397-mile oval that is beginning its 67th year of racing action.   Fans who cannot make it to the track on Saturday can watch all the racing action at no charge on FansChoice.TV.
Keep up to date on Ryan Vargas's racing career…
Website: http://ryanvargasracing.com
Facebook: https://www.facebook.com/RyanVargasRacing
Twitter: https://twitter.com/The_Rhino23
Media Contact: Rod Wortham
Email: Rod@racefacebd.com
Phone: (727) 999-2628